Our Mission
Mid-Evil Industries is committed to providing gun enthusiasts with high quality, precision engineered weapon accessories. All our products are designed, developed and manufactured with first-rate materials for strength and endurance.
What Makes Us Unique
At Mid-Evil Industries, we don't make minor alterations to gun parts and accessories and re-market them. We take a product, like a vertical fore grip and take it to a whole new level to create a revolutionary, fully adjustable, ergonomic vertical fore grip that will appeal to all shooters. As a result, our 360° VFG is unrivaled and unsurpassed.
Our latest endeavor has been to create an extremely stable shooting platform that is lightweight, compact and quickly deployed. All of our parts are modular so you can keep building your system. Our cutting edge versatility sets the new standard. We at Mid-Evil are determined to keep innovating and providing high quality yet affordable solutions for the entire shooting community, from law enforcement and military, to hunters, precision shooters and the civilian market. Contact us for more information.
Our Story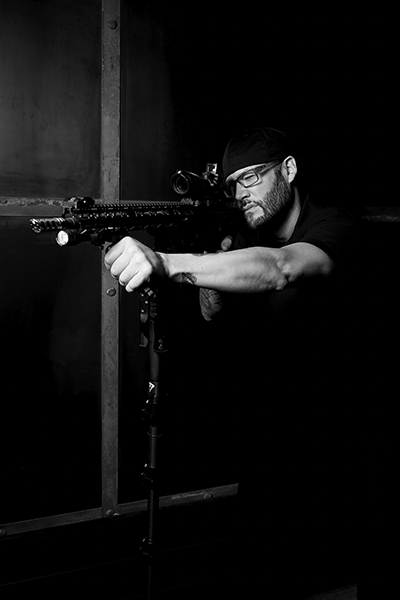 Our story began in 2010 when Steve Azhocar received a Sig 5.56 from his wife for his birthday. By trade, he was a carpenter, but his passion for innovation inspired him to become an inventor.
The very first time he took his birthday present to the shooting range, he experienced the inconvenience of being a CA shooter and dealing with the hassle of the bullet button. This drove him to invent the Mag Magnet and a couple of years later, he developed the TX3, a takedown tool for hard to remove takedown pins.
Steve's search for practical solutions to everyday problems and the passion to innovate created the 360° VFG one day when he looked at an old box full of discarded vertical fore grips. He thought to himself – there's got to be something better than this.
And that's how Mid-Evil Industries was born. In the last few years, our product line has grown exponentially from our one-of-a-kind adjustable fore grip to a complete Modular Tripod System.